Percussion drilling is one of the most original drilling methods used around the world. It requires the team to set up a tripod with a cable and the drill bit attached to its end. The drill goes to and fro in the hole to loosen the soil and reach a greater depth, which the workers later extract using a bailer. The use of the cable line in this drilling has earned it the name cable drilling besides its real one.
A steel case allows holding the walls of the hole so that it doesn't collapse and hinders the job. Also, it prevents groundwater from contaminating the drill site. Since you can perform this manually or mechanically, it is dependent on the depth you are aiming for to decide which to use. It is a method generally used for digging boreholes and water wells. Not only is it a cost-effective method, but you will avoid using city water filled with chemicals. Hence, providing you with the option of having a water well as an alternative source of water supply at your place.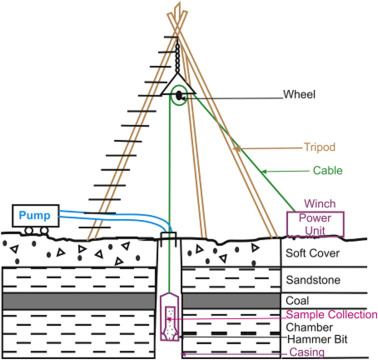 FIg.1.Schematic conceptual diagram of the percussion drilling procedure.
Percussion drilling is employed when auger or wash boring is not possible in very stiff soil or rock. It also can be used in most soil types. Here the advancement of a hole is achieved by alternatively lifting and dropping a heavy cutting or hammering bit that is attached to a rope or cable that is lowered into an open hole or inside a temporary casing (casings are hollow cylindrical pipes used for borehole stability and to prevent the loss of drilling fluid through the boreholes). Usually a tripod is used to support the cable. The stroke of bit varies according to the ground condition. The major disadvantage of this method is that it is not possible to get good-quality undisturbed samples. In very hard rock (and especially fractured hard rock), down-the-hole (DTH) drilling can be employed. In this case the hammer, applying repeated percussive pressure, is located just behind the drill bit inside the hole, unlike the open percussion drilling, where the hammer is on top of the drilling string. The drilling string provides the necessary force and rotation to the hammer and bit, as well as compressed air or fluids to the hammer and for the flushing of cuttings. This arrangement also allows for much deeper percussion drilling.
📱 +359888882200

💻 support@hydromontage.com