High levels of torque and rotation are utilised by rotary drilling rigs. The rotation of the drill bit bores through the rock formation at a speed between 50 and 120rpm. Fixed cutter bits, better known as PDC bits, and roller-cone bits are the two primary forms of drill bit. Both are exploited frequently in the industry.
The PDC drilling, which stands for polycrystalline diamond materials, is one of the most important material advances for oil drilling tools. When drilling with a PDC bit, it is always necessary to use either air or drilling fluids to reduce friction on the drill bit. Furthermore, it is also important to cool the borehole to ensure the drill can continue to run faultlessly and mitigate any risks of the process going wrong.
PDC bits are manufactured in two styles, both of which differ slightly in their capabilities. These are Matrix-body bits and Steel-body bits. The Matrix-body has some limited features, such as blade height, and thus has a lower impact toughness. On the other hand, Steel-body bits are best for complex bit profiles and hydraulic designs.
What Rock Formations Does Rotary Drilling Suit?
Rotary drilling rigs can be implemented in a variety of geological formations, due to its versatile and unique form of drilling. One thing to consider is the type of borehole that is being drilled. When drilling deeper boreholes, rotary drilling using air would be more suitable, whereas mud rotary is more appropriate for unconsolidated formations, such as sand and gravel. This is because mud rotary requires rapid rotation to drill into the open and fluid-based hole. An additive is added to the drilling fluid during the mud rotary process which coats the sides of the borehole to ensure it is supported mid operation.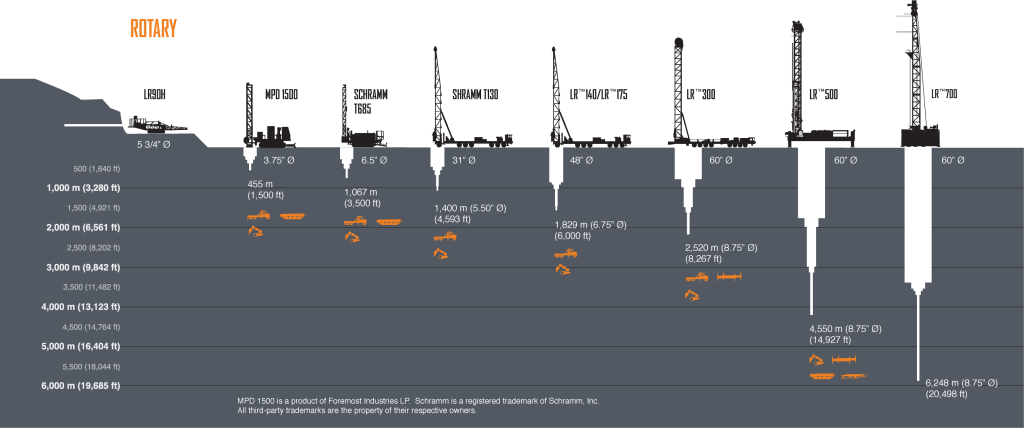 📱 +359888882200 💻 support@hydromontage.com​